Heatbit: The electric heater that earns you money
What you get for 1300 Watts of electricity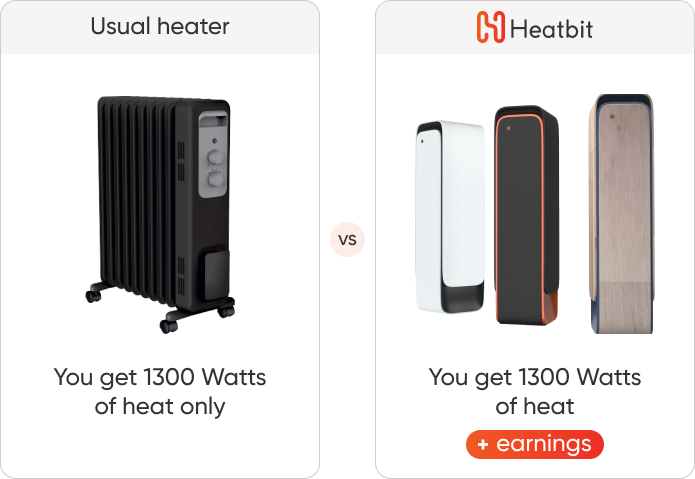 Heatbit uses chips that emit heat and generate earnings in bitcoin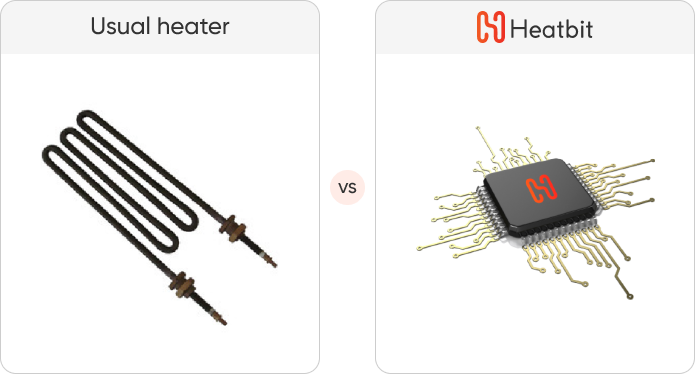 Earnings are generated through a process called "bitcoin mining". It is a process of performing a large number of complex calculations that support security and development of bitcoin network. Doing these calculations is rewarded by the bitcoin system.
Heatbit uses electronic chips that run these calculations and emit heat as a byproduct. Heatbit is just as efficient at generating heat as a conventional electric heater, but is also able to generate earnings through the bitcoin mining process.
The generated earnings can significantly offset the cost of electricity, or in many cases, even make money for the user.
Powerful computers are needed to mine and in the process they generate a lot of heat, just like your own computer does under heavy load. The Heatbit is equipped with >100 chips that run these calculations and as a result generates heat for your home, while earning you bitcoin.
It can all seem a bit daunting. But you don't have to understand the nitty-gritty of bitcoin mining in order to be a Heatbit user, any more than you need to understand the inner workings of what happens when you swipe your debit card. That being said, we want everyone in our community to feel in control and informed, so we'd be happy to answer any of your questions and point you in the direction of some great sources on the subject.
Here is a good intro into bitcoin mining: https://www.youtube.com/watch?v=mrtSAgcpack
So, how much can it earn?
Well, depends on bitcoin price and few other things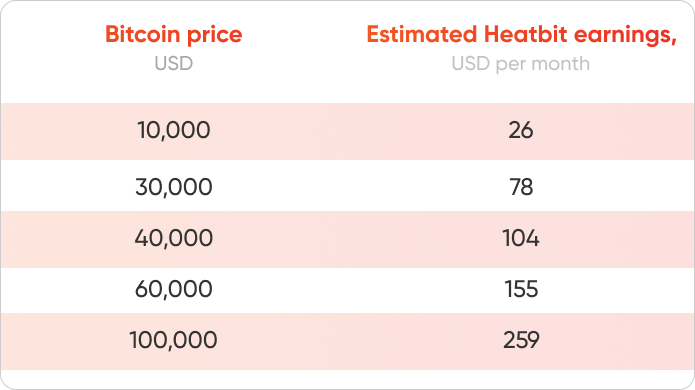 Earnings depend on several factors like bitcoin prices, mining difficulty, and how much you actually use your Heatbit.
The table above is very simplified and is for illustrative purposes only. It assumes using the Heatbit Dedicated version non-stop and bitcoin mining difficulty levels of January 2021, it does not account for cost of electricity.
What does it mean if we take into account electricity costs?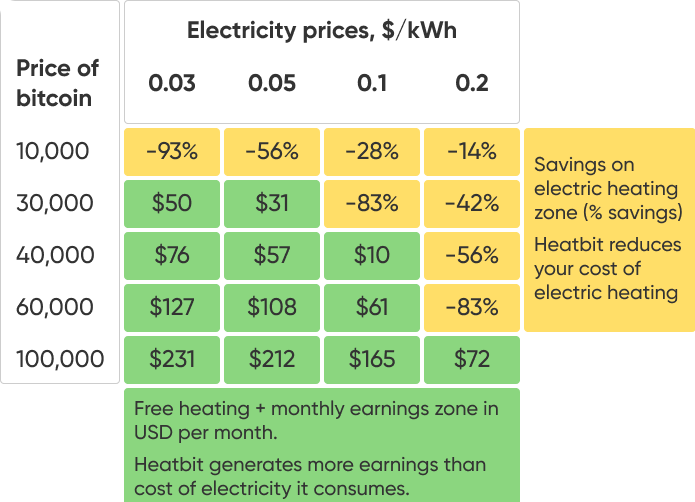 With high electricity costs or low bitcoin price Heatbit earnings (area in yellow above) will only be sufficient to reduce cost of your electric heating by the % specified. In case of high bitcoin prices or low electricity costs (area in green above) Heatbit can cover all electricity costs (i.e. you get the heating for free in this case) and generate earnings for you.
The table above is very simplified and is for illustrative purposes only. It assumes using the Heatbit Dedicated version for 24 hours a day over 30 day period and bitcoin mining difficulty levels of January 2021.
Doesn't bitcoin mining difficulty keep increasing?
Bitcoin mining difficulty has been increasing historically, but that came along with bitcoin price increases: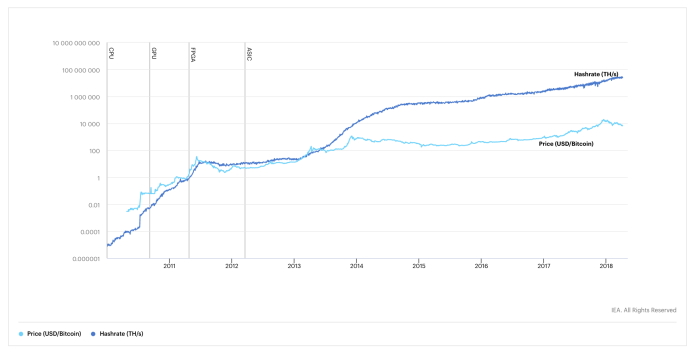 Source: IEA (International Energy Agency). https://www.iea.org/data-and-statistics/charts/bitcoin-price-and-hashrate-2010-2018
Here are some good external sources to dig deeper on this:
Checking current bitcoin price: https://www.google.com/search?q=bitcoin+price
Bitcoin mining calculator: https://www.cryptocompare.com/mining/calculator/
Specs: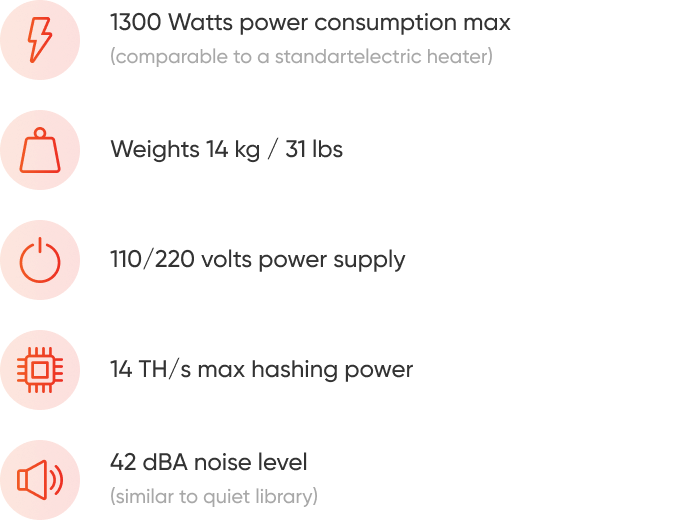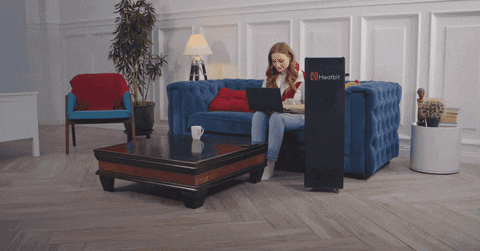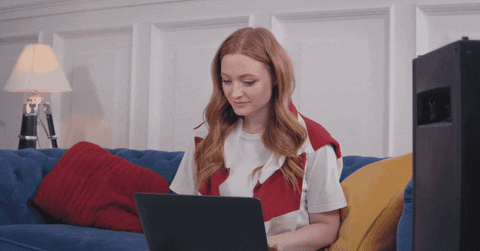 You control your Heatbit with an app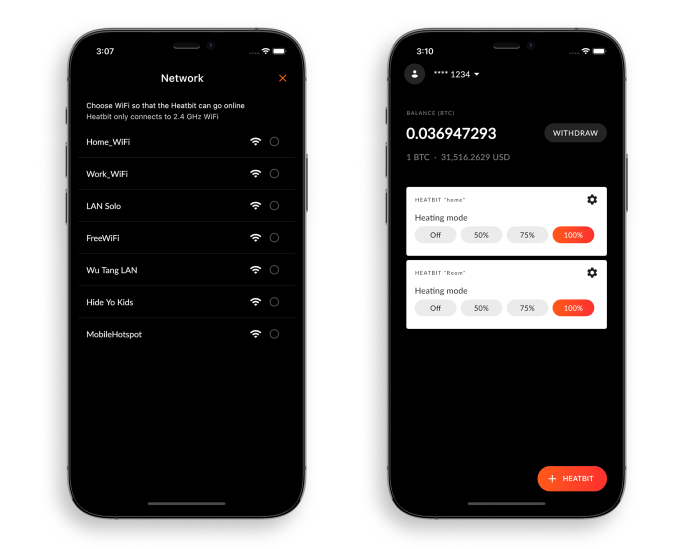 Heatbit is available in two versions: Dedicated and Shared

To make owning a Heatbit more accessible, we also offer a 'Shared' version. It's the same great heater, but at a lower price and we split the earnings 50-50. Sharing the cost and the reward allows us to both grow our community and spread the warmth.
Payment options

If you prefer payment using BTC, USDT or other major coins, you can do so at heatbit.com
Pre-ordering options explained: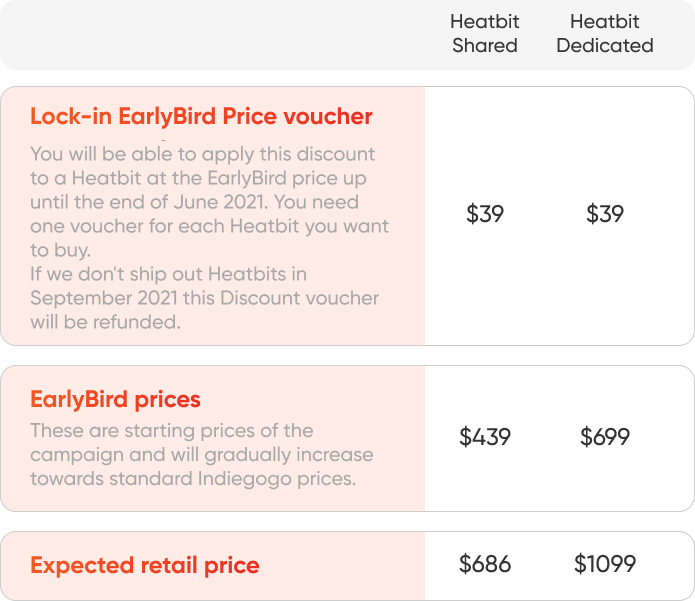 We've been working hard to make Heatbit happen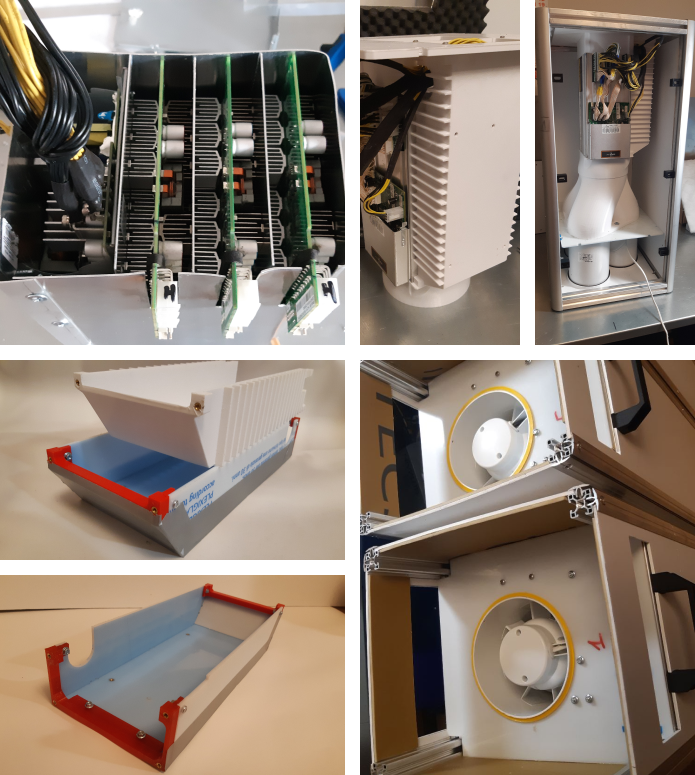 Heatbit prototypes are currently being tested by first users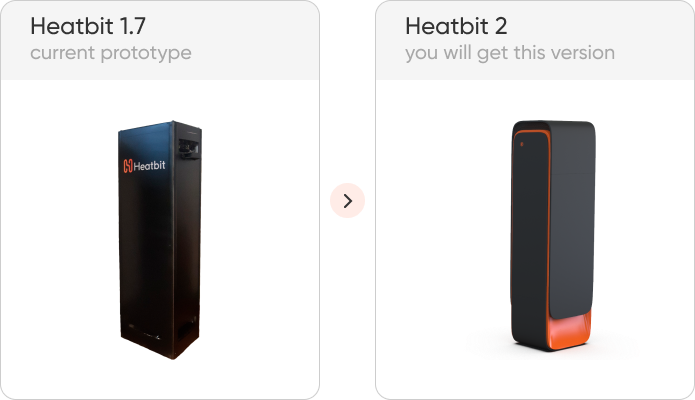 Available in 3 finishes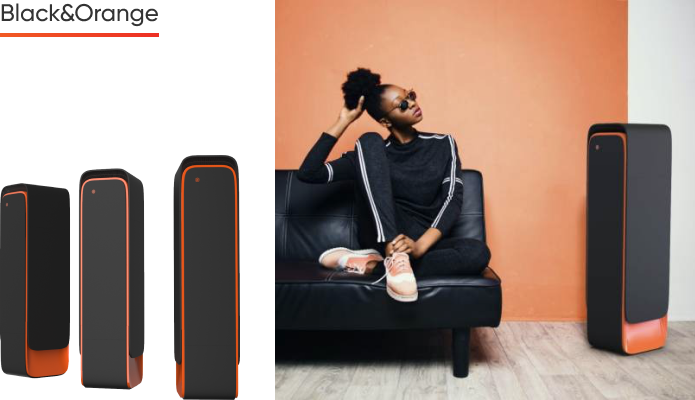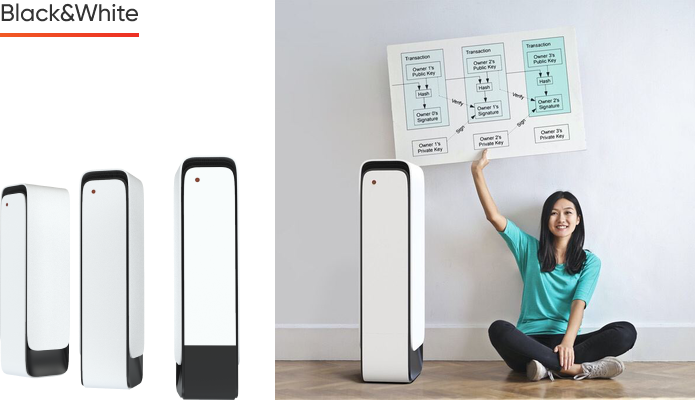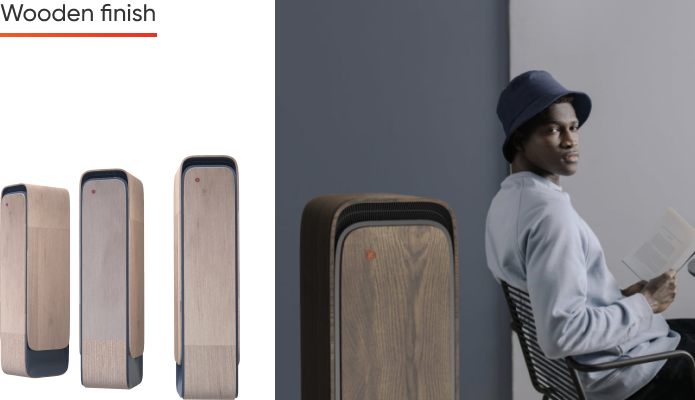 Timeline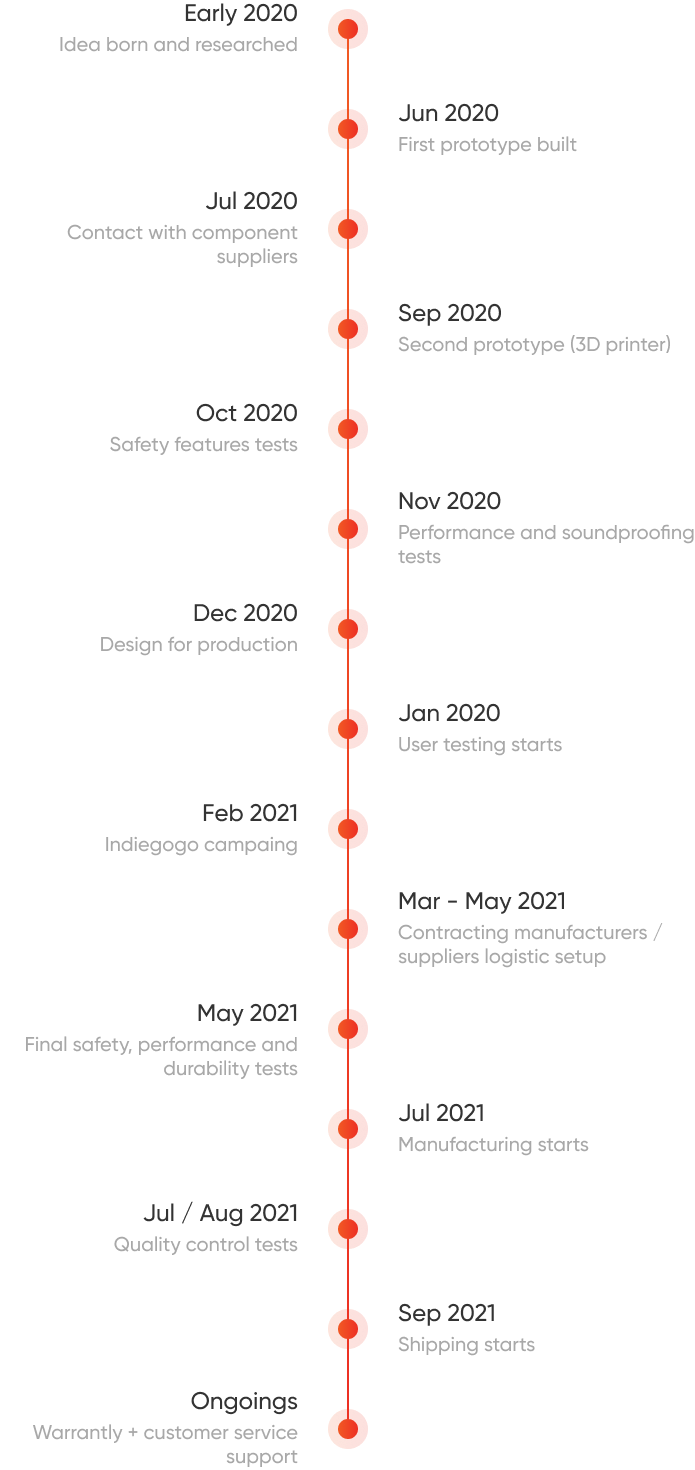 Risks and Challenges
For the past year the Heatbit team has been hard at work. We have already tested the heaters extensively and have designed a product that we know is not only functional, but excellent. That being said, if there are some unforeseen production setbacks as we increase volume, we will prioritise the quality and would never send our backers a mediocre product. We will continue to keep communication with our supporters open and honest, so you stay informed on our progress. Similarly, any challenges with shipping will be clearly communicated and resolved. We're committed to delivering a great product and look forward to the work ahead.
Legal
While we don't like to put legal disclaimers, we have to. We're being proactive about protecting our users and what we do from a handful of people who might be inclined to issue unwarranted complaints and legal claims.
Any figures concerning earnings are a hypothetical model, not a prediction or projection of performance. Multiple assumptions have been made, and may or may not be accurate at a later point in time. Earning calculations do not account for withdrawal fees or taxes and are for illustrative purposes only. Actual earnings may be more or less than presented.
Legislation and regulation related to bitcoin, bitcoin mining, cryptocurrencies and any related activities varies by country and often changes quickly. You are responsible to make sure using Heatbit in your country, state or other locale is in accordance with all applicable laws and regulations.
All prices of Heatbit devices quoted are before VAT, GST or other such sales tax. You may need to pay the VAT, GST or other such sales tax specific to your country or state when you receive your device. Import duties and taxes for international shipments are responsibility of the buyer.
If you have any questions, please, check out FAQ, ask in the comments section or email us at support@heatbit.com. 
If you want to pre-order a large number of Heatbits (>20), please, fill in this form: https://forms.gle/M6J9DWvCB7pWYaUw8